[With Guide] How to Rewrite AI Generated Text with 3 Steps?
Category: Generate Video
4 mins read
Getting an AI tool to help with the copy writing is a great advancement for all content creators. But the fact that the generated content can sometimes be inconsistent is not neglectable.
So, you may need an automatic rewriter to streamline the process of creating content. In this article, you will learn the tips on how to rewrite AI generated text with simple steps.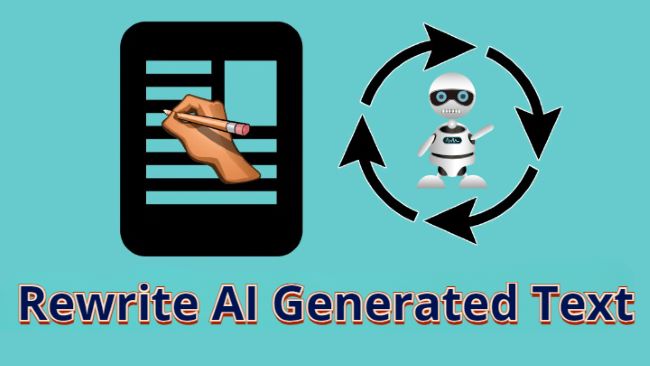 Part 1: What is an AI Text Rewriter Tool?
An AI text rewriter tool is a software or online service that utilizes AI and NLP to rewrite text content while basically maintaining the original meaning. Its purpose is to generate unique versions of the input text with different wording and sentence structures.
These tools can be beneficial for content creation, article spinning, and avoiding plagiarism to some extent.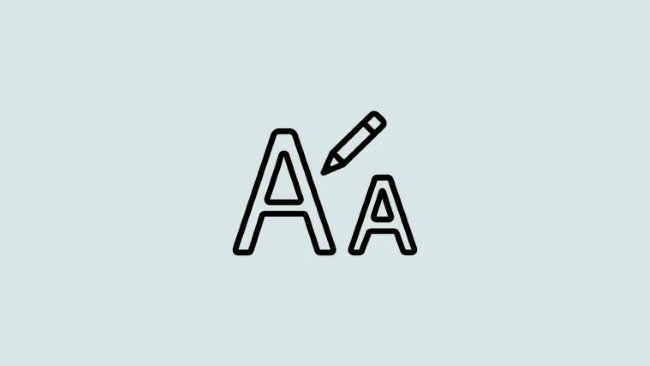 Part 2: How to Rewrite AI Generated Text?
1

Novi AI - Free AI Text Rewriter

iMyFone Novi AI is a free AI text rewriter tool that allows you to reproduce the generated text and make it in human-quality using AI technology.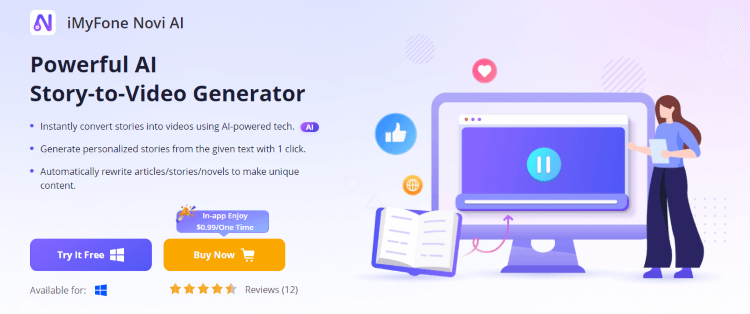 This software uses deep learning algorithm to analyze the input text, regarding the meaning, the tone and the genre, and then generate a new version of the original text without altering the main idea.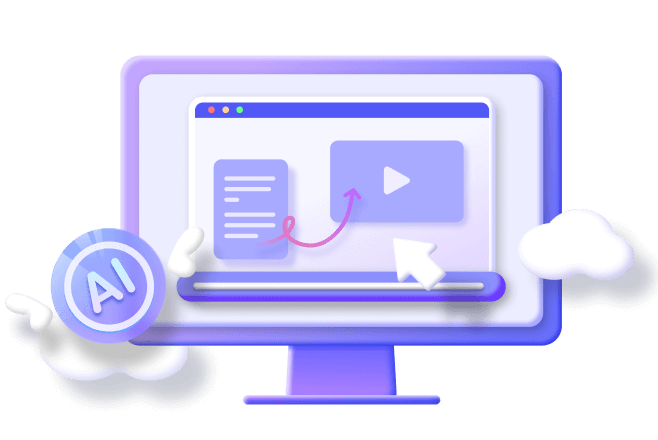 Its Highlights:
Wide range of article styles to choose from, including Modern, Suspense styles and others.
Support to restructure sentences and generate plagiarism-free text including stories, scripts, plots, etc.
Support to rewrite text without words and times limit.
Enable users to turn the rewritten text into video.
Easy to use interface without complicated steps.
How to rewrite AI generated text with Novi AI?
Step 1: Go to download Novi AI, launch it and click the Article Rewriting panel.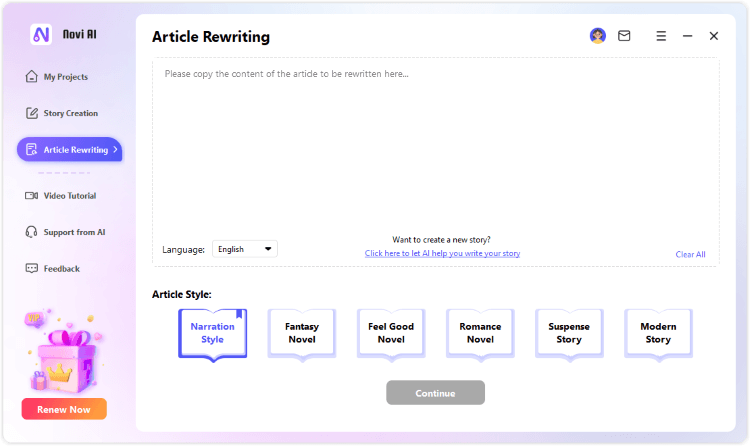 Step 2: Paste the text content you want to rewrite to the input box, then choose the style for the article, hit the Continue button.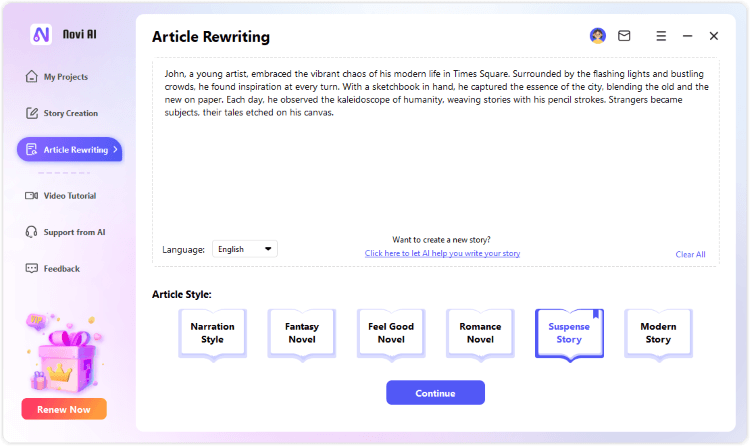 Step 3: When the text it rewritten, you can right-click to copy and save it.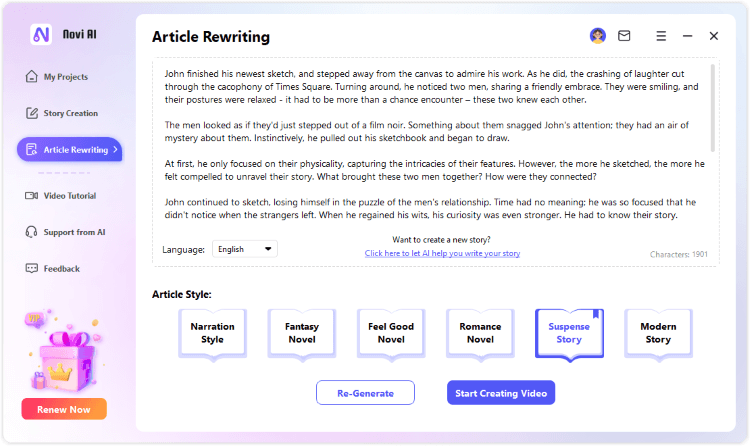 2

WordAi

WordAi is also an AI content rewriter that enables users to turn text to text to avoid the text from being not engaged.

Likewise, it uses AI technology to understand the given context including the basic ideas and wordings before starting to rewrite them.

Able to choose from 3 different writing types.
Offer to check spelling during the process.
Work to improve the AI generated text.
Can use API to bulk rewrite articles.
How to rewrite AI generated text using WordAi?
Step 1: It's offering a three-day free trial on the basis that you make a subscription to the monthly or yearly plan, so you may have to sign up for an account and pay for the plan first.
Step 2: Choose to rewrite articles and input the text content you want to rewrite.
Step 3: You can choose from More Conservative, Regular and More Adventurous.
Step 4: Click to manually save the output result.
Part 3: Questions from Other Users
01

How do I make my AI-generated text undetectable?

The most direct way is to try to rewrite or paraphrase the content, whether through human labor or AI rewriting tool.
02

How do you rephrase AI-generated text?

If you do have time and effort, it's recommended to reconstruct the text yourself. If not, rewriting the AI-generated text with those AI tools like Novi AI, Quillbot, WordAi, Chimp Rewriter is also supported.
03

Is there a free AI tool to rewrite content?

Yes, but with conditions. Tools like Novi AI, Quillbot offer to rewrite content for free but with limited times. And almost all tools follow the same rule.
04

Can Google identify AI-generated content?

The answer is yes. Google can identify the content from AI. Though it can detect the text, but it won't affect the ranking only if the content is made readable and look less like AI-created, which means it's better to try to rewrite the content first before posting.
Conclusion
In a word, Novi AI and WordAi are both great options for those who looking to rewrite AI generated text. Both tools offer easy-to-use interfaces to re-generate the AI text on the basis of making the content more readable and plagiarism-free.
And which tool you choose won't change the fact that using an AI text rewriter can save more time while improving the working efficiency.