3 Tools: How to Get AI Generated Videos from Text in 2023
Category: Generate Video
5 mins read
What's the first thing that comes to your mind when you want to make videos with the text you give? You may think of asking a pro or freelancer for help if you have no pertinent experience.
But hey, the problem gets solved now with an AI text-to-video generator at the time when AI storms the world.
Here this article will ease your burden with the 3 tools that can get you through to make AI generated videos from text.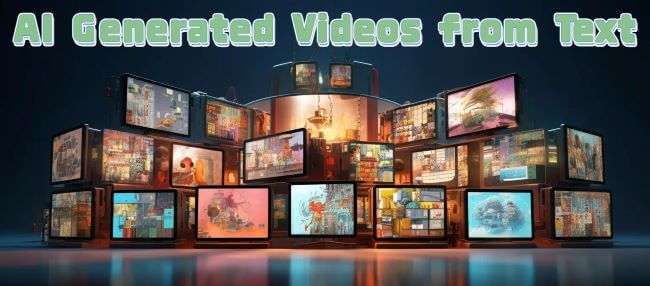 Part 1: What Defines an AI Text-to-video Generator?
The AI text-to-video generator is an advanced artificial intelligence system that takes text descriptions as input and synthesizes corresponding video content.
The model leverages multimodal learning, computer vision, and deep learning architectures to understand the semantics of text and create coherent, realistic videos.
Part 2: How to Make AI Generated Videos from Input Text?
Here is for you who want to make videos from the given text but can't find a proper way. Read on with 3 tried and tested tools.
1

Novi AI

iMyFone Novi AI is a desktop text to video generator that utilizes AI to generate videos from the given text.

With its built-in functions, this tool has revolutionized the process of creating videos for various purposes, from commercials to tutorials and money-making.

Aided by this AI video generator, you can quickly generate high-quality video clips in a cost-effectively way without the need for a pro if you lack of certain experience.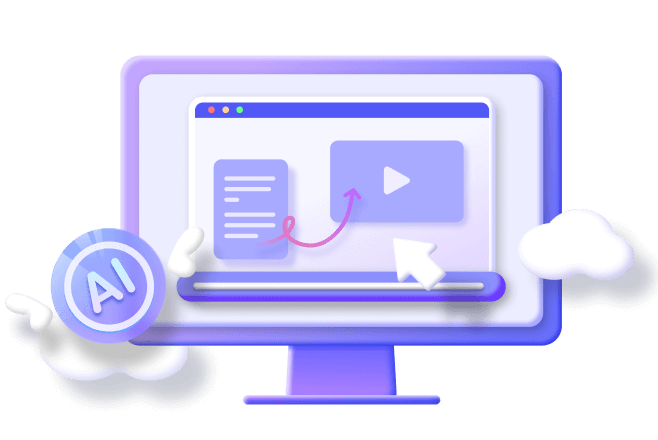 Its Highlights:
Supports to create original videos from the provided text including stories, plots, scripts and others.
Supports to generate text first then make the text a video with this sole tool.
Includes different video styles and languages to make videos.
Enables to make cartoon videos, animation videos, teaching videos and so on.
How to generate videos from the provided text?
Step 1: Install the iMyFone software on your PC. Open the software, and click on My Project, then the + icon at the lower right corner to enter the Video Creation panel.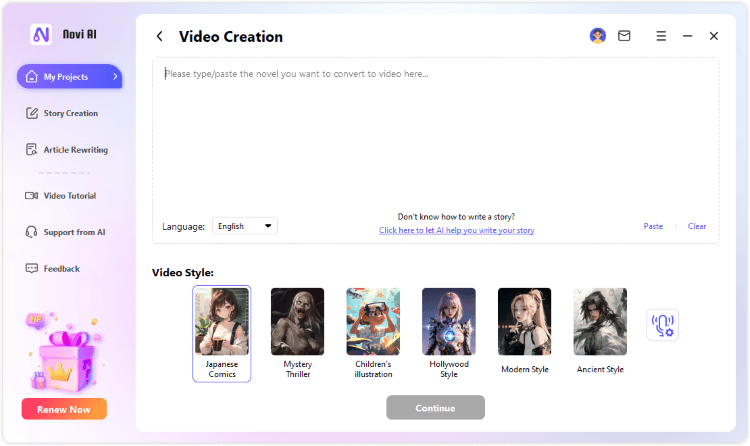 Step 2: Paste your text to the input box, choose the corresponding video style and the dubber, then hit the Continue button.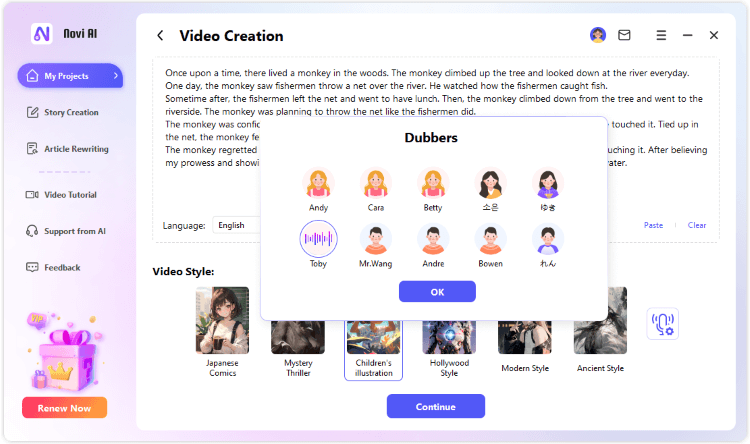 Step 3: Here you can name the video file and choose where to save it, then click Start.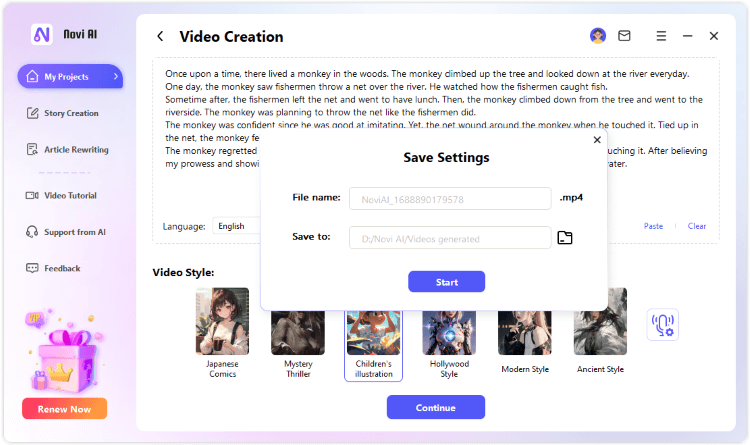 Step 4: Now the video is generated. You can save it or go back to make more videos.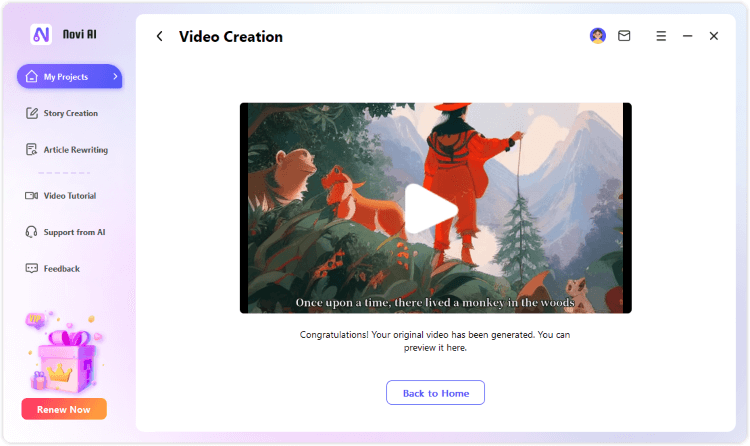 2

DeepBrain AI

DeepBrain AI is another tool that is able to make AI generated video from text. The platform offers a selection of over 100 avatars, enabling users to effortlessly transform posts into videos within a matter of minutes. The entire process is automated, so there is the need for any editing expertise.

Its key features include:
Support 80+ languages.
Various video platforms.
2D AI avatars.
Clear interface to operate.
3

Lumen5

The platform that uses AI to generate video from text, Lumen5 is a video creation tool designed to convert your content into engaging visual narratives swiftly, for both marketing and brand promotion purposes. All that's required is your script input, and with just a few clicks, you can craft an interactive story with ease.

Among its key features are:
Able to convert a script into a video swiftly.
Supports to upload your own music and logo.
No need to download any software for using.
Offers different customizable options.
Part 3: Benefits of Using AI Generated Videos from Text
Some people may think it not safe to make videos from text using AI technology, but that's a wild concern. There are many benefits of using such videos, which can be then applied to many scenarios.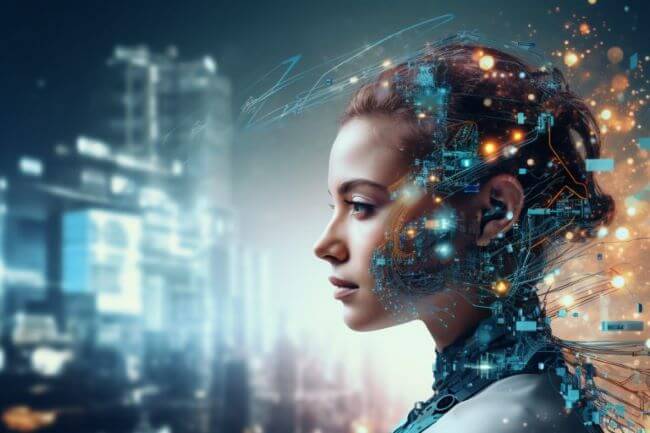 Time-Efficiency: Videos can be produced quickly and automatically with the help of AI, saving significant time compared to manual video production processes.
Cost-Effectiveness: The traditional way of manual video production can be pricy, but the AI-generated videos from provided text reduce costs and eliminate the need for extensive human labor.
Scalability: The AI system can generate videos at bulk, allowing businesses to create a large volume of videos efficiently.
Ease of Use: Creating videos from text using AI is often user-friendly and doesn't require extensive technical expertise.
Multimodal Learning: The AI-generated videos leverage multimodal learning by combining text and visual content, enhancing the overall viewing experience.
Innovative Visuals: AI can create visually captivating elements and effects that might be challenging or time-consuming to achieve through traditional methods.
Conclusion
With the ability to use AI to generate videos from text, these tools offer a high level of video creation ability. AI text-to-video generators have proven to be a valuable tool for creating videos with high efficiency. In this article, 3 tools that can make AI-generated video from text are listed, but I'd love to recommend Novi AI Text to Video Generator, which generate quality videos at a low price.