[Can't Miss] The AI Creative Writing Generator to Spark More Creativity in Writing
Category: Generate Video
5 mins read
In the realm of writing, the AI creative writing generator has emerged as a game-changer that no wordsmith can afford to overlook.
With its potential to spark an explosion of creativity and revolutionize the art of storytelling, this cutting-edge technology is set to redefine how we approach the written word.
In this article, we delve into the captivating world of this AI tool, exploring its remarkable capabilities and the profound impact it promises to have on the future of writing.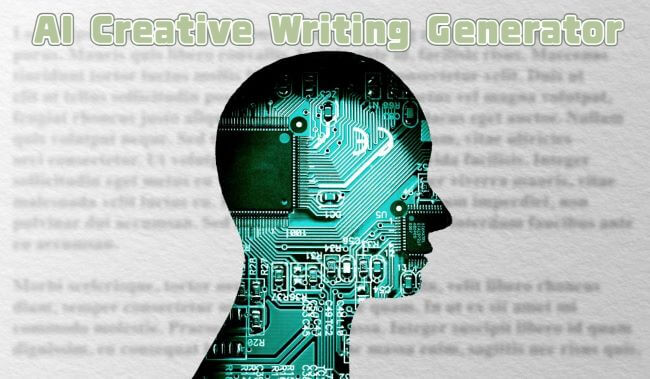 Part 1: What Can an AI Creative Writing Generator Do?
The AI Creative Writing Generator is a powerful tool that utilizes artificial intelligence to automatically create a diverse range of written content, including articles, stories, poems, and more while offering inspiration through writing prompts.
It can devise compelling plotlines, develop intricate characters and worlds, and suggest ways to complete sentences or edit existing content.
Part 2: 3 Recommended Creative Writing AI Generator Tools
1

Novi AI

As a desktop tool, iMyFone Novi AI utilizes deep learning algorithms to generate text of different kinds with the highest creativity.

With the built-in writing styles, you can generate text including stories, novels, articles, plots, etc. All of them can be accessed within a click of a button.

What makes it distinct is that it allows you to convert the written text to video, making it an all-in-one tool for both creative content and video content creation.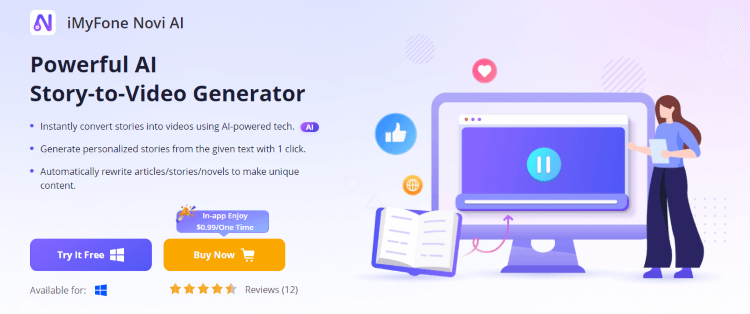 Step 1: Download iMyFone Novi AI and launch it to enter the Story Creation panel.
Step 2: Input the text prompt for the content you want and click Continue.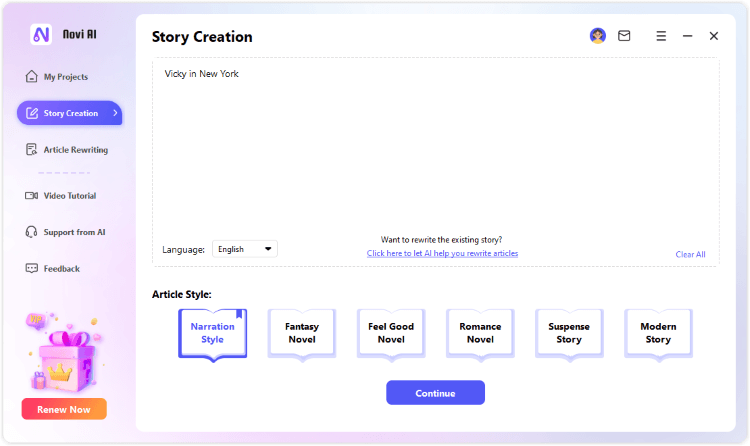 Step 3: Right click to save the generated content or continue to generate more.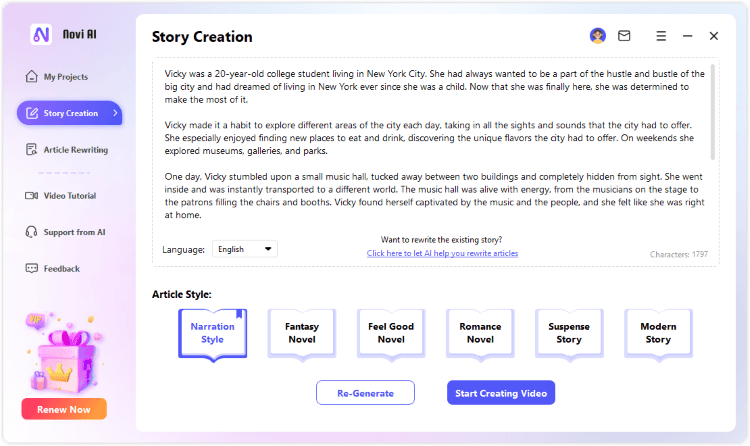 Generate different text with 100% originality
Make text with the different input prompts
Help to convert the created text to video
You need to download the software first for enjoying
2

WriterHand

WriterHand is a cloud-based platform that offers to generate content of different kinds. For you being a content creator or a marketer, you can find the right tool here. And it's free to use without any hidden cost.
Free to use without cost
No need to download desktop software
Support to generate different text types
There are many ads around
Can't customize any settings
3

ToolBaz

Another free creative writing AI generator is ToolBaz. Likewise, it's also a web-based tool that supports to finish all your requirements without the desktop version. And its features are quite similar to that of WriterHand but with more. And all of them serve to save time you spent on making creating content.

Offer different AI tools for text generation
Can use without paying
Can generate the content as a relatively quick speed
Contain many ads
No customization options
Part 3: FAQs about Creative Writing
01

How do I start off creative writing?

If you feel no creativity, try an AI creative writing generator like the aforementioned Novi AI, WriterHand or ToolBaz. Input your text prompt and they will do the rest for you.
02

How do I start creative writing with no experience?

The first thing you can try is to read or google some short stories you are interested in. They're not lengthy and are often easy to read with provoking and creative storylines.
03

How can I write creative writing fast?

The idea in mind and draw an outline for your writing. You always need proofreading and reediting after you've finished one part. So, don't rush to mind the details and focus on writing the basic framework first.
Final Words
When it comes to generating creative content, most people would feel it daunting task. But the situation is ended with the help of an AI creative writing generator. Whether to create text of any kind, tools like Novi AI, WriterHand, ToolBaz can all help you out with their built-in AI writing technique.