[2023] Text to Video Generator: How It Boosts Productivity?
Category: Generate Video
5 mins read
Being a content creator, you must know that keeping audiences hooked is a real challenge in today's fast-moving digital world.
But fear not! The text to video generator introduced here is an incredible solution for you. This game-changing tool uses AI magic to effortlessly convert your plain text into eye-catching videos.
In this article, we'll show you how it takes your content creation to a whole new level, fuels your creative freedom, and improves your productivity!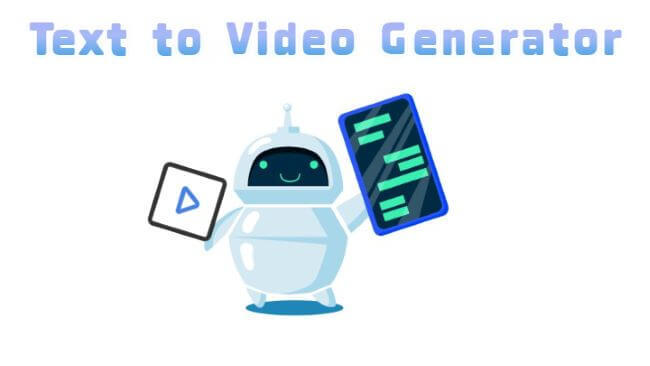 Part 1: What is Text to Video Generator?
A text to video generator is a technology that converts text-based content into engaging videos by using AI.
It essentially automates the process of creating videos by analyzing the provided text, extracting key elements, and generating corresponding visual content, including animations, and voiceovers.
By eliminating the need for manual video production, it significantly boosts productivity and opens up new possibilities for creating captivating multimedia content.
Part 2: 3 Text to Video AI Generator Tools
The main purpose of using an AI text to video generator is to saves time and costs by automating the video production process.
If you want to boost visibility and reach of your content thus driving audience engagement, read on this part and you'll find the answer.
1

Novi AI – AI Text-to-Video Generator

You may not hear about this video generator before, but as a new tool, iMyFone Novi AI text-to-video generator is proven one of the efficient apps to convert text to video. With 1 click, you can turn the dull words into vivid videos in the video style you want.

Notably, if you do need more content, its built-in story generator can help to create the content first.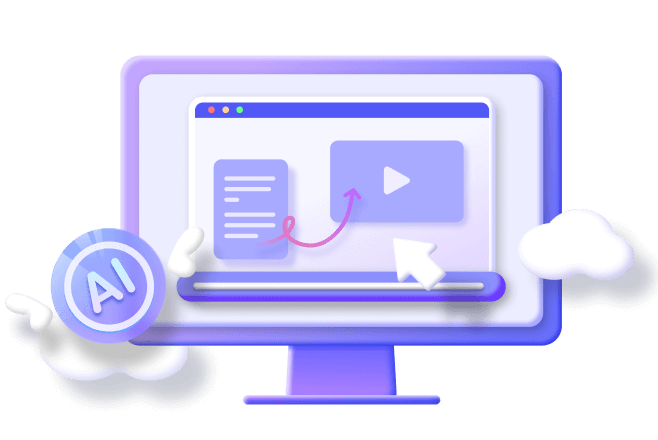 Features:
Make video monetization realizable on popular social platforms.
Help to generate text content first before converting to a video.
Provide with many video styles and voiceovers.
User-friendly interface with easy steps.
Step 1: Install and launch iMyFone Novi AI on your Windows, go to the home page of My Project and click the "+" button.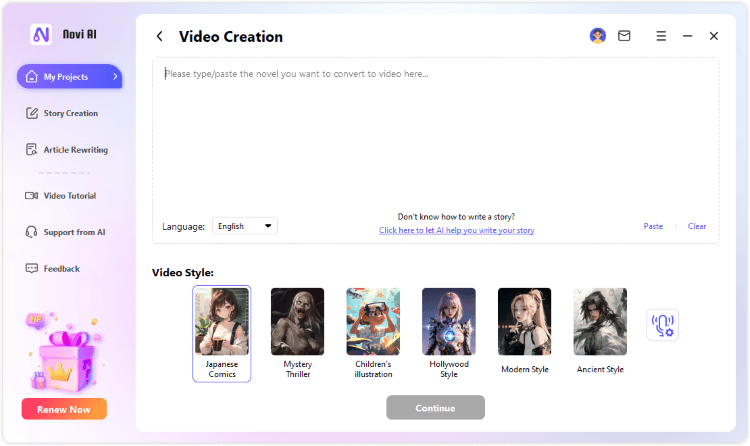 Step 2: You should enter the video creation panel now. Paste the text you want to turn into a video. Below there, choose the video style and the voiceover you like.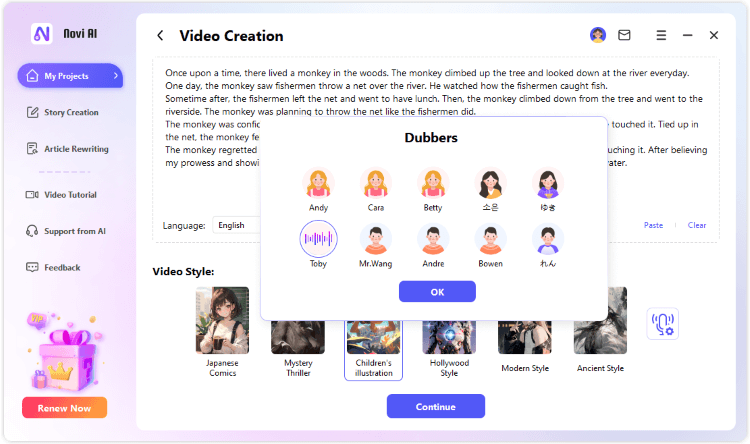 Step 3: Hit to Continue. Name your file and choose the location where you want to save your generated video. Then, click the Start button.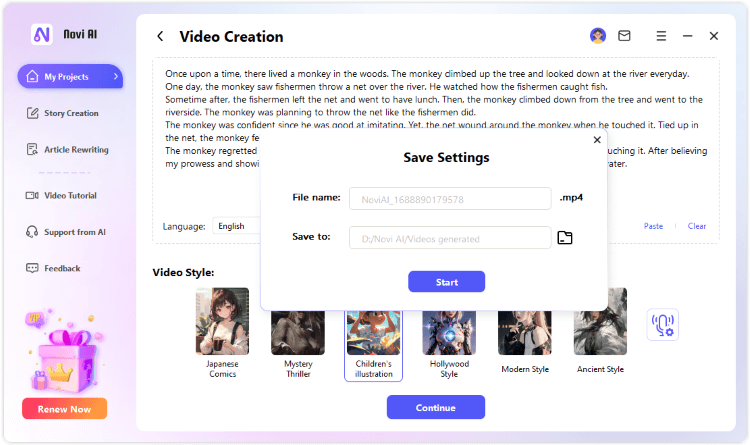 Step 4: When the video is created, click to preview or go back to the interface to make more.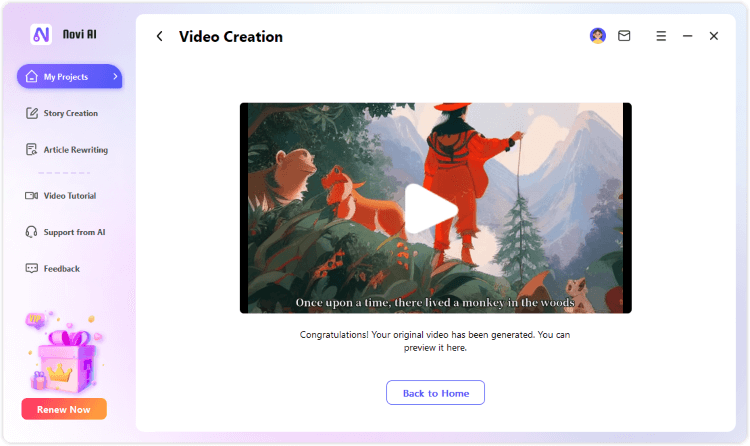 Novi AI starts at $9.99 per month, $29.99 per year. And you can enjoy it with $0.99 per time by buying it in app.
2

Synths Video

If you're in search of an AI video creation platform that can produce videos featuring AI-generated or personalized human faces, Synths Video is also a choice.

This user-friendly software offers a wide range of robust and versatile features. Moreover, the videos it generates exhibit great quality, and the process is swift.

All in all, it is a great text to video AI generator that deserves consideration for anyone looking to create captivating videos.

A diverse selection of video styles is available.
Provide with over 45 existing avatars to choose from.
Offer you a free trial option to test the service.
Synths Video starts at $399 per month, and you can contact its team to customize your plan.
3

HeyGen

HeyGen is another innovative video platform that simplifies the creation of captivating business videos using generative AI.

With its powerful capabilities, you can generate a video in minutes, right from your browser. You have the option to record and upload your own voice to create a personalized avatar, or you can simply type in the desired text.

Its ability to combine multiple scenes into a single video makes video creation more flexible as well.

Have multiple voices and supported languages.
Offer to customize avatar per your need.
Make it easy to choose the favorite music.
HeyGen starts at $24 per month. And there are other plans for different needs.
Part 3: Hot FAQs about AI Text to Video Generator
1

What is the free AI to create video from text?

There are many AI tools that offer free trial to create video from text. And tools like Novi AI, Synths Video and others all support to make a video for free or at a low price.
2

Is text to video possible?

Yes. With the launches of many existing text to video AI generators, converting text to video is not a challenge.
3

Is the AI text-to-video generator safe?

Yes. Whether for online or desktop products, their task is to convert the text to video while doing no harm to your existing data.
Conclusion
Turning text into video is no difficulty if you find the right text to video generator. To free up yourself and improve the working efficiency while getting the satisfying result, Novi AI stands out to be the suitable one to fulfill all your ideas. Try it now!