[2023 Newest] What is AI Script Generator and How to Use It?
Category: Generate Video
5 mins read
When it comes to content creation, one crucial aspect is establishing a well-structured storyline. Whether you aim to produce high-quality content or make a high-level movie, having a script is essential.
However, many individuals find the process of creating such content challenging. In such cases, an AI script generator can provide a solution by simplifying the writing process.
So, in this article, we will explore the top options currently available in the market. Whether you are a writer, screenwriter, or marketer, these tools will make your content creation a breeze.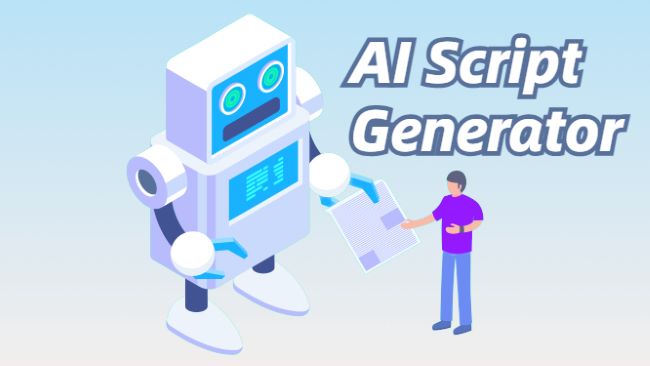 Part 1: Introduction of AI Script Generator
An AI script generator is an advanced tool that utilizes artificial intelligence technology to generate scripts for movies, TV shows, plays, and more.
By analyzing existing scripts and employing natural language processing algorithms, it produces coherent and engaging scripts.
Writers can input prompts and parameters to guide the generation process, enhancing their productivity and creativity in scriptwriting endeavors.
Part 2: 3 Script Generator AI Tools of 2023
The advent of AI script writers has revolutionized the writing process, offering a simplified approach to crafting compelling stories that captivate audiences. However, selecting the most suitable AI script writer can be a daunting task.
To assist you in this decision, we have compiled some of the finest AI script generators for you that should align with your specific requirements and preferences.
1

Novi AI – Top Choice for Plot Generator AI Tools

As a GPT-enabled AI script generator, iMyFone Novi AI harnesses state-of-the-art natural language processing techniques to generate captivating and top-notch copy.

It analyzes your input, such as the genre of the story, theme, plot, and any other additional instructions, and creates a list of outputs based on the input.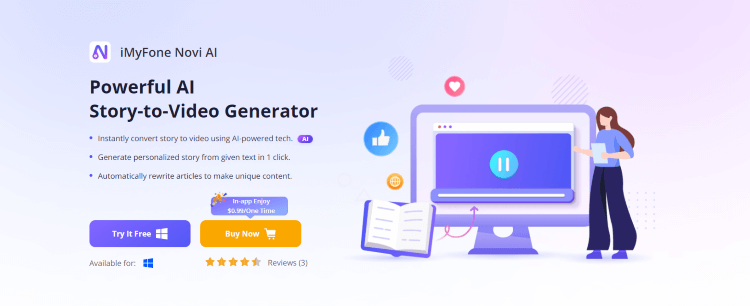 That's not all, Novi AI also supports rewriting stories and converting stories, novels, and any written text into original videos.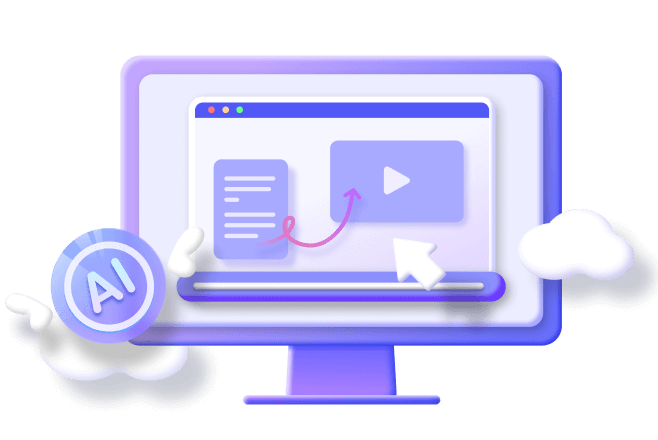 Key Features:
Use AI to generate script of different styles per your need.
Connect with GPT to bring you the original content.
Support to generate novels, stories, audiobooks, etc.
Come with built-in story styles and dubbing characters.
How to create AI-generated script?
Step 1: Download Novi AI to enter the main interface, choose the Story Creation tab.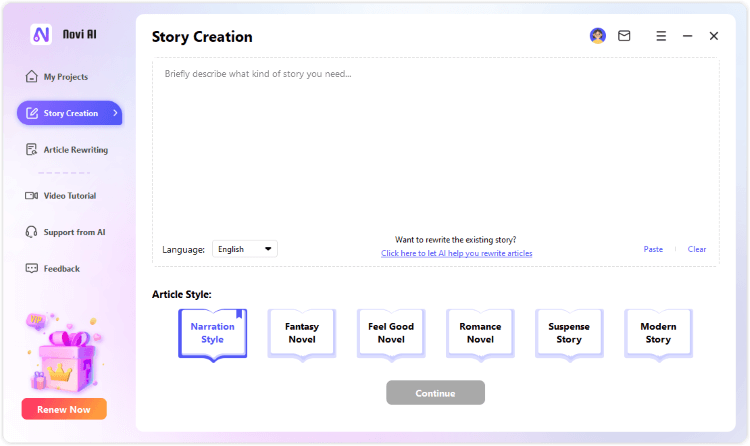 Step 2: In the input box, describe what kind of script you want, select the style you need, and click the Continue button.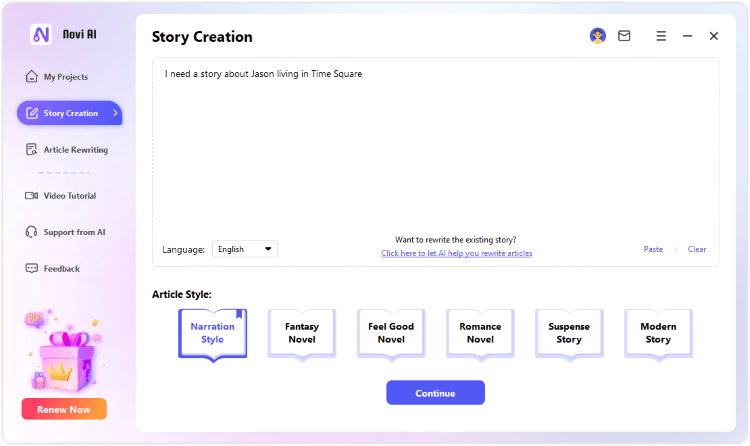 Step 3: Within a few seconds, Novi AI will bring you the script. You can then Copy it for later use or go back to make more scripts with it.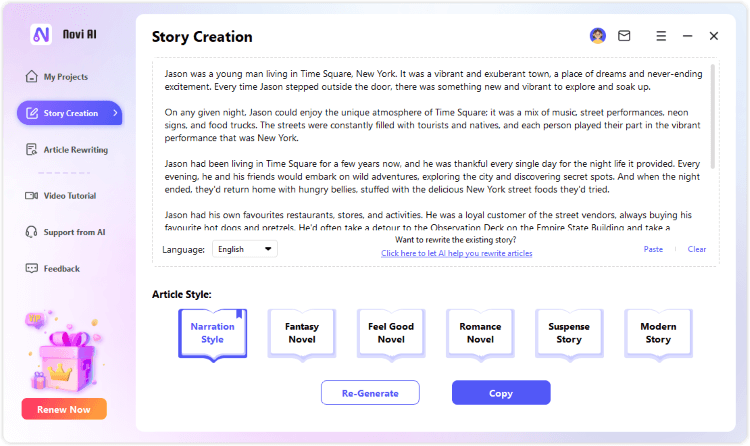 Pricing:
Free trial to $9.99 per month to $29.99 per year.
2

ScriptBook

ScriptBook is a specialized AI story generator created specifically for screenwriters and the art of storytelling, aiming to simplify the process of writing screenplays.

By employing deep learning algorithms, the tool examines established screenplays and utilizes that analysis to generate new scripts.

What makes it different is that it can analyze everything from plot structure to character development and even predict a screenplay's box office performance.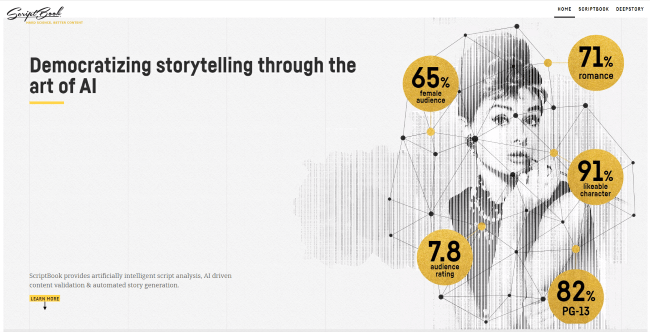 Key Features:
Analyze existing screenplays then provides insights.
Generate new scripts based on its understanding of storytelling techniques.
Offer to predict a screenplay's potential box office performance.
Support to produce a visual representation of emotions throughout a screenplay.
Pricing:
Starts from $199 per year with limited chances for free trial.
3

Copysmith

Copysmith is also a script generator AI tool designed especially for marketers and advertisers. It caters to the needs of creating ad copy, landing page content, and various other marketing materials.

By inputting a product or service, users can effortlessly generate scripts with the help of AI. Another exceptional feature of it is its capability to produce multiple script versions that align with different marketing objectives. For marketers, it serves to be a suitable choice.

Key Features:
Offer to adjust writing style and desired tones.
Its generated ideas are alternative approaches for marketing campaigns.
Come with team collaboration features.
Cost:
It starts from $19 per month to $490 per year.
Part 3: Pros and Cons of Using a Script Generator AI Tool
Some of you may want to know the advantages and disadvantages of using such a tool to circumvent certain mistakes. And here you can check the summarized points about what will cost to use an AI script writer.
Advantages:
Time-saving: It can quickly generate scripts, saving writers significant time and effort in the initial drafting process.
Inspiration and Ideas: It provides fresh ideas and inspiration, helping writers overcome creative blocks and explore new narrative possibilities.
Efficiency and Productivity: By automating parts of the scriptwriting process, it enhances writers' efficiency and productivity, allowing them to focus on other aspects of their work.
Disadvantages:
Lack of Certain Originality: The AI generated scripts may lack originality and unique voice if not choosing the right tool.
Limited Creativity and Empathy: It might have limitations when it comes to creative thinking and generating truly innovative or unconventional ideas.
Lack of Accuracy: It may not always accurately capture the nuances of specific contexts, cultural references, or subtle character motivations, requiring human intervention and editing.
Part 4: FAQs about AI Script Generator
1

Can AI write me a script?

Yes. For you to write a script for the next TV show or movie, AI tools online can create the content for you.
2

Is there an AI that writes scripts for free?

Both Novi AI and ScriptBook can write scripts for free, though with certain limitations.
3

Are AI-generated scripts as good as human-generated scripts?

If you choose the right tool, then the AI generated content can be as good as what human made. Or, they can be regarded as the complement to human's work.
Conclusion
At the time you need more creativity, an AI script generator is a great helper. Believe it or not, Tools like Novi AI can genuinely improve your writing efficiency to a great extent and level up your writing experience in many aspects!