[Tried & Tested] 5 Cartoon Video Makers for PC and Online
Category: Generate Video
7 mins read
You know how good the animated videos can be. They possess immense potential for captivating your audience and effectively conveying intricate concepts, presenting solutions to prevalent challenges encountered during video production.
And there is a plethora of tools exist to breathe life into your ideas, accommodating various budgets and skill levels.
In this article, we'll unveil 5 cartoon video makers for both PC and online platforms, enabling you to embark on a bewitching journey into the enchanting realm of animated video creation.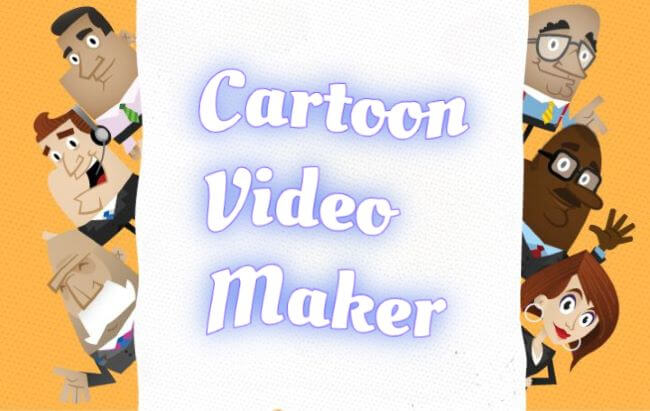 Part 1: Things about Cartoon Video Maker
What is it?
A cartoon video maker is a tool that enables users to create animated videos in a cartoon or animated style.
It provides features, templates, and resources to help users easily create animated videos without requiring advanced animation skills.
Users can customize characters, backgrounds, and animations, and animate them by adjusting their movements and expressions. Text, voiceovers, music, and sound effects can also be added. The final videos can be exported in various formats for sharing on social media, websites, or presentations.
Is it good to try an animated video maker?
Yes. An animated video maker enables you to create captivating videos that effectively convey complex ideas or various purposes, from marketing to education, and engage your audience. With pre-designed elements and intuitive interfaces, you can easily create professional-looking videos without advanced animation skills.
Part 2: 2 Cartoon Video Makers for PC
1

Novi AI

Regarding one of the easiest tool to make cartoon videos, iMyFone Novi AI has a saying here. As an AI cartoon video maker that uses advanced algorithms, it aims at simplifying the video making process and bring you the cartoon videos to the next level.

Equipped with multiple video styles and dubbing characters, Novi AI makes it easy to create cartoon clips in seconds by converting text to video. You won't be bothered by not having the relevant skills since it is easy to operate for users of all levels.

How to make cartoon videos?

Step 1: Launch Novi AI on your PC, go to the home page of My Project and click the "+" button on the right corner.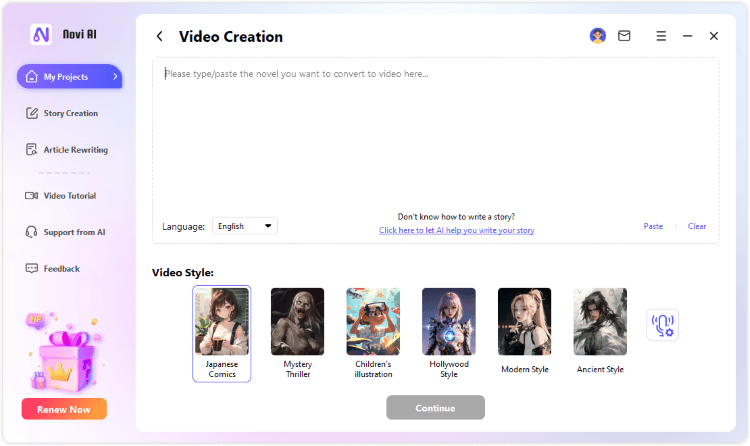 Step 2: When in the Video Creation panel, paste the text you want to turn into a cartoon video. Below there, choose the video style such as the Children's Illustration and the voiceover you like.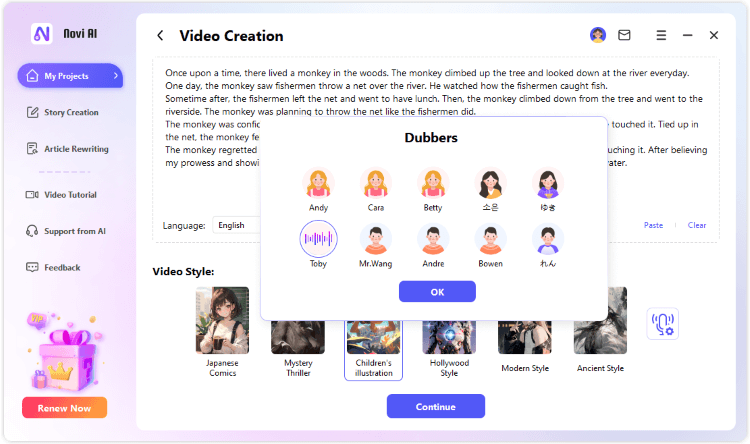 Step 3: Hit the Continue button. Enter the file name and choose the save location for the to-be-generated cartoon video. Then, click the Start button.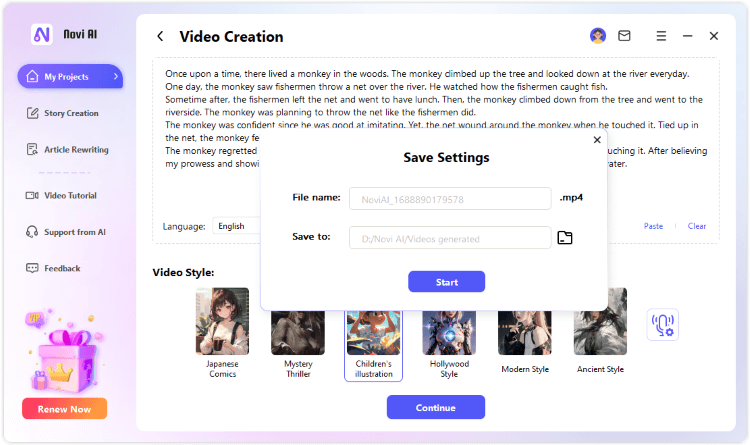 Step 4: When the animation video is created, click to preview or go back to the interface to make more.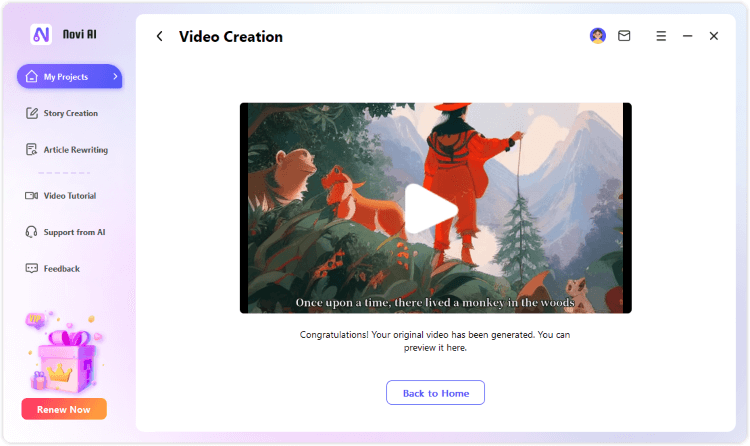 Novi AI starts at $9.99 per month, $29.99 per year without any limitation. And if you want to try it first, you can download the app to enjoy $0.99 per time.
2

Animiz

The second option available for you to download is Animiz. With a plethora of scene templates and a variety of styles, users have the freedom to create cartoons in diverse artistic expressions.

In addition, this tool provides an array of assets, empowering users to unleash their creativity and craft captivating cartoon videos. Moreover, the availability of animation effects ensures seamless scene transitions and enhances the overall allure of the animations.

Extensive collection of templates.
Provide with subtitling and voiceover features.
Clear interface.
The quality of the cartoon videos is limited based on the chosen subscription plan.
Relatively expensive for higher need.
Free trial to $29 per month for only 1 user; $299 per year for only 2 users.
Part 3: 3 Cartoon Video Makers Online
1

Animaker

Animaker is the first online choice for you. It stands out as an exceptional online animation app, offering a vast selection of options to enhance your projects.

With the different animated characters, backgrounds, and maps to choose from, as well as six video styles, you have the freedom to tailor your creations to various project types.

Additionally, the inclusion of fifty background music tracks, close to two hundred sound effects, and the option for direct voice recording further solidify its position as one of the top cartoon video makers available online.

Excellent audio editing features.
A diverse range of templates.
Require no installation of software.
Need to register for an account first.
Some plans are quite expensive.
The free trial result comes with watermarks on the videos.
From $12.5 per month to $468 per year.
2

Vyond

Being an intuitive animation software, Vyond empowers users to produce sophisticated animated videos by leveraging a variety of templates and customizable features.

While it may come with a higher price compared to alternative online solutions, Vyond stands as one of the pioneering platforms in the field of online cartoon video makers. It remains committed to consistently refreshing its asset library and introducing new features, prioritizing an improved user experience.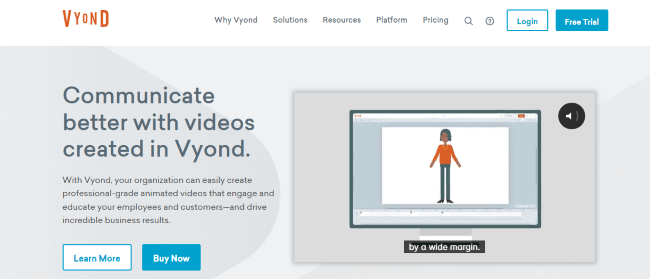 Different templates to choose from.
Prompt customer service response.
Advanced animation features for characters and objects.
Not all options are available to all subscription plans.
Quite expensive for both monthly and yearly payment.
Complicated for beginners.
From $49 per month to $1099 per year.
3

Biteable

To make cartoon videos online, Biteable seems to be another option. It offers a vast selection of templates that covers a wide range of online media marketing requirements.

Alongside captivating cartoon templates, the platform provides pre-made templates for creating explainers and social media videos.

Users have the flexibility to modify scenes and add personal touches, resulting in customized and polished content that exudes a professional look.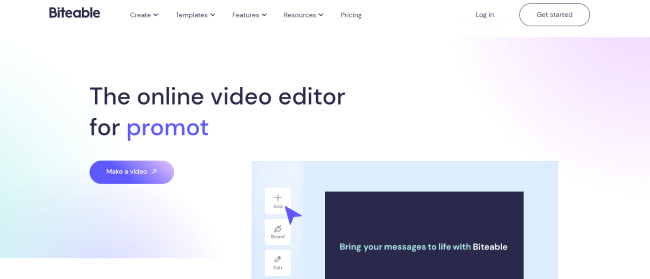 Suitable creators of any kind.
Provide with collaborative tools.
Many template choices.
Quite pricy than other competitors.
Need to register first.
No free trial offered.
From $99 per month to $1188 per year.
Conclusion
Let the cartoon video maker help you out if you need to make cartoon videos as many as possible. There are many tools available, each comes with different features. And if you're looking for the one that works for both novices and pros, Novi AI is no doubt tops the list that you can have a try first!