5 Trusted AI Movie Script Generators for Screenplay Writing 2023
Category: Generate Video
3 mins read
It's clear that a top-notch film requires an engaging, well-crafted script. In the past, writers had to devote immense time and effort to developing movie screenplays from scratch.
However, advances in AI now allow creators like you to utilize movie script generator tools to generate scripts instantly.
By providing prompt-based brainstorming, these AI tools seek to boost productivity and creativity while reducing costs, and scriptwriting may no longer require the same heavy lift as before.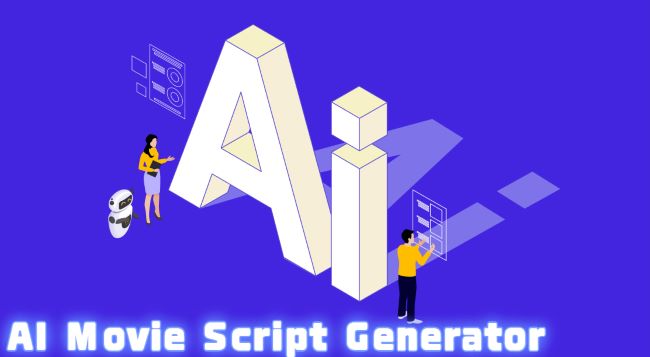 Part 1: How Movie Script Generator Can Benefit You?
What is AI Movie Script Generator?
AI movie script generators leverage natural language processing and machine learning to help automate screenwriting. By studying vast datasets of screenplays, these AI tools can provide targeted assistance with plotting, character development, drafting scenes and dialogue, creative prompts, and more.
What are the benefits of using movie script generator AI tool?
Saves time by automating parts of the scriptwriting process like generating ideas, characters, plot points, and dialogue.
Provides inspiration through story prompts and creative jumping-off points. Handles tedious formatting and edits to clean up scripts.
Reduces costs associated with hiring screenwriters or script doctors.
Part 2: 5 Movie Script Generator Tools You Should Try
As an emerging AI text generator, Novi AI has the built-in feature to generate text including movie script with a simple prompt.
After you specify the movie style you need, the full script with detailed structure, characters, plots, dialogue will be listed within seconds.
Moreover, it incorporates an AI text-to-video generator that supports to turn the AI generated movie scripts to original videos rapidly.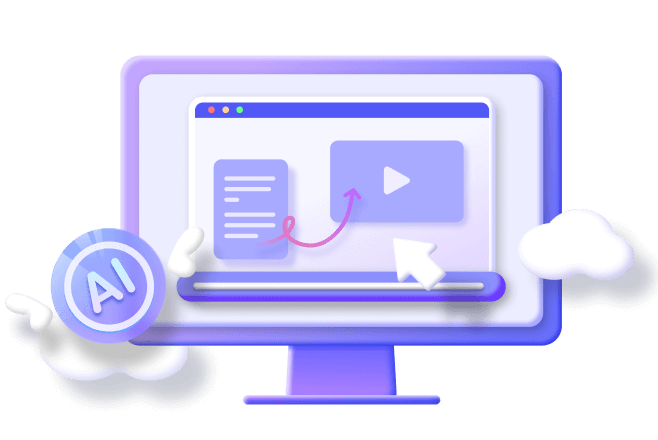 Its Highlights:
Provide with different movie styles to choose for making scripts.
Help to 1 click convert the generated script to unique video with text to video technology.
Also support to rewrite the generated script for polishing.
Step 1: Download iMyFone Novi AI and launch it to enter the Story Creation panel.
Step 2: Input the prompt for the movie script you need and click Continue.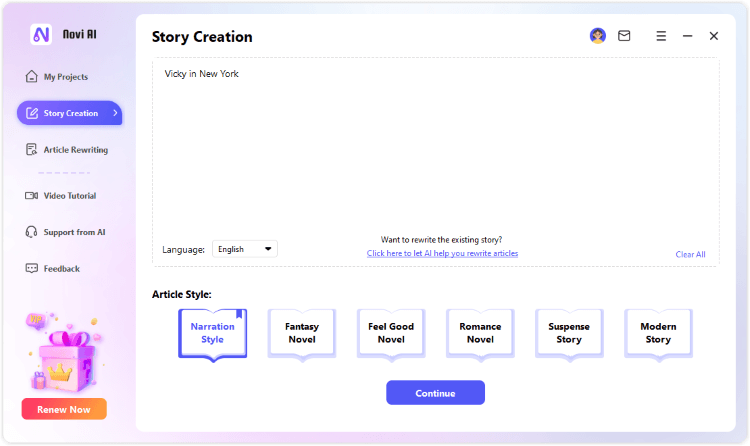 Step 3: Save the content or click to make more scripts of different types.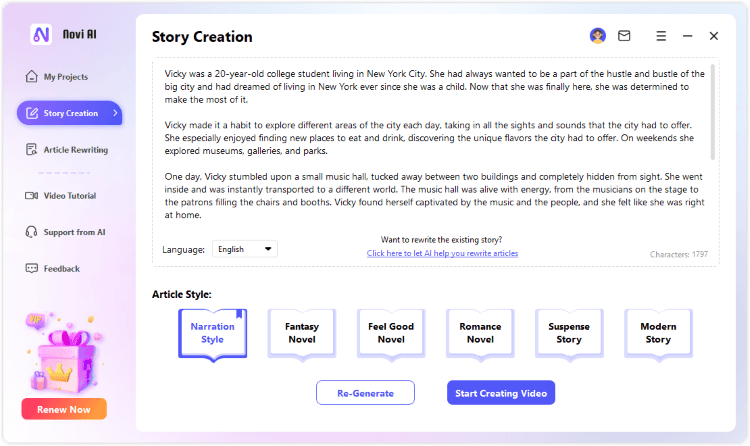 Pros
Instantly create various movie scripts in different genres.
Write the full script rather than inconsistent stuff.
Users have full control of the text content.
Easy to use for both beginners and pros.
Cons
It's not a web-based tool, so you may need to download it for using.
2. Writecream
WriteCream represents a movie script generator fueled by AI, designed to streamline certain aspects of the initial drafting process.
By employing natural language processing and machine learning models trained on screenplay data, this tool is capable of producing complete initial drafts within minutes, given essential story parameters.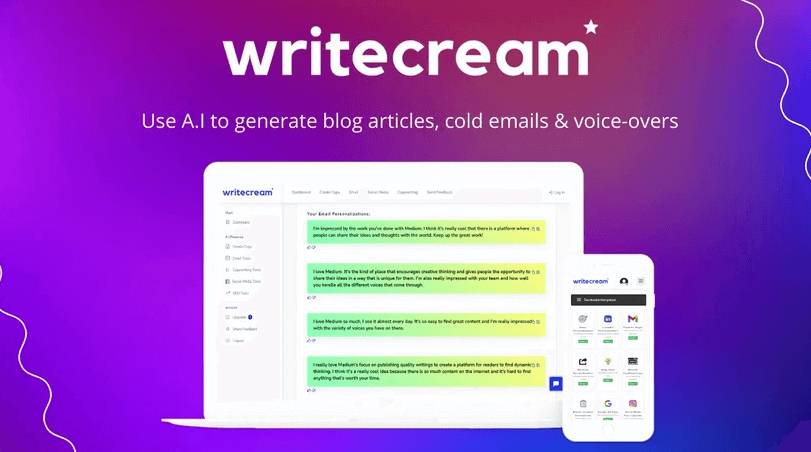 Pros
It can write first drafts fast.
The AI does tedious work like scene blocking and character details.
It gives helpful feedback to improve scripts.
Cons
You need to edit and polish the scripts a lot.
It has fewer options for genres and templates.
Quality changes a lot depending on what you tell the AI model.
3. FlexClip
FlexClip is an AI-driven movie script writing tool that utilizes ChatGPT technology. With support for a wide range of languages, FlexClip allows users to generate screenplays instantly online at a relatively quick speed.

Pros
It can make scripts in many languages like English and Chinese.
It can also turn scripts into videos very quickly.
Cons
The AI sometimes makes mistakes in the scripts.
It does not have many options to customize the scripts.
The videos made from scripts may not be very high quality.
4. VEED
VEED utilizes artificial intelligence to automate the scriptwriting process online. After providing a brief prompt, users can obtain the complete AI generated movie script crafted by VEED's algorithm.
Being capable of generating compelling movie scripts, it allows video creators to bypass the difficult process of scripting videos from scratch.

Pros
It makes full scripts fast from only a short prompt.
The AI writes all parts like dialogue, openings, endings.
It has options for different video styles and formats.
Cons
The quality of scripts can be inconsistent.
There is little control over the details of the story.
It lacks advanced editing features for scripts.
5. Sudowrite
The last movie script generator AI tool is Maekersuite, which uses AI to give suggestions to improve stories instead of creating them. The suggestions can help brainstorm ideas or find different wording.
It has a simple interface that limits distractions. This makes it easier to focus on writing. Sudowrite is best for writers who want some AI help to enhance their work while they do the real writing.

Pros
It gives useful suggestions to improve writing instead of doing it for you.
The minimal interface helps you focus.
The writer stays in full control of the story and writing.
Cons
It does not write full drafts, only gives suggestions.
The suggestions can sometimes be repetitive or uncreative.
It has a smaller database of scripts compared to other AI tools.
Conclusion
The heavy task can be an easy peasy if you have the right movie script generator. And maybe more than that. Tools mentioned above are all can be tried for relieving your writing burden, but regarding the one that is mostly recommended, Novi AI no doubt top the list. Try it for free now!