[2023 New List] 3 Trusted AI Tools to Convert Text to Video
Category: Generate Video
5 mins read
The rise of social media has significantly transformed our ways of entertainment, with people increasingly favoring captivating video content over plain text.
So is there any way to turn the generated text into a compelling video? The answer is yes. This is where those time-saving AI Tools to convert text to video come in handy.
This article will delve into the world of text-to-video AI tools, their main features, and different application scenarios.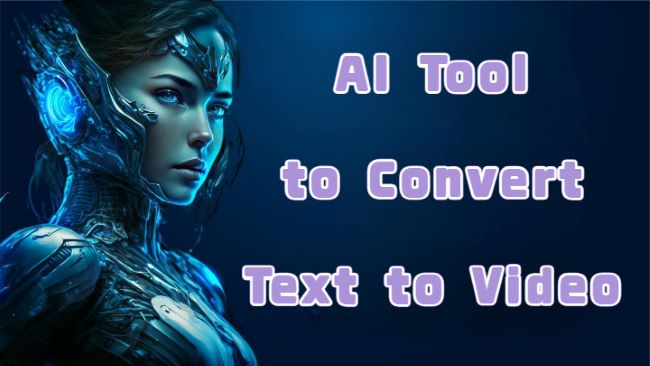 Part 1: What is Text to Video?
Text-to-video is an innovative technology that utilizes AI and NLP algorithms to automatically convert textual content into engaging videos.
It eliminates the need for manual video editing and allows users to create dynamic visual content effortlessly. The generated videos find applications in various fields, including content creation, e-learning, marketing, and social media.
With the ability to produce compelling videos from written material, text-to-video technology offers a convenient and efficient way to bridge the gap between text and video formats.
Part 2: 3 AI Tools to Convert Text to Video
As an AI tool to convert text to video, iMyFone Novi AI simplifies the process to take only 1 click. Whether your input text is about a story, novel, plot, article or any others, Novi AI can turn it to a vivid video with text-based pictures.
Moreover, it provides with a built-in music library that once you choose the video style you want and the dubbing character, you can instantly get the generated video.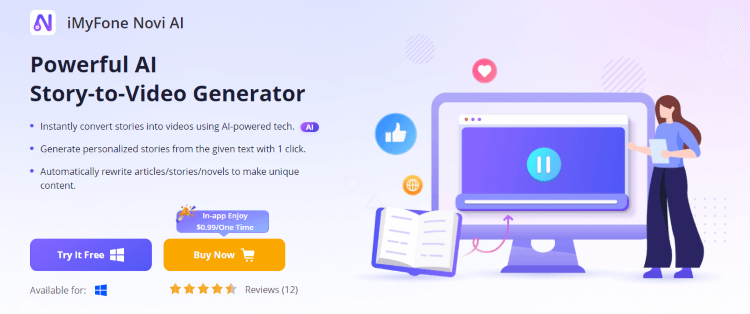 What makes it different is that it can also generate text for you, which serves as a complement once you need to add more text for coherence.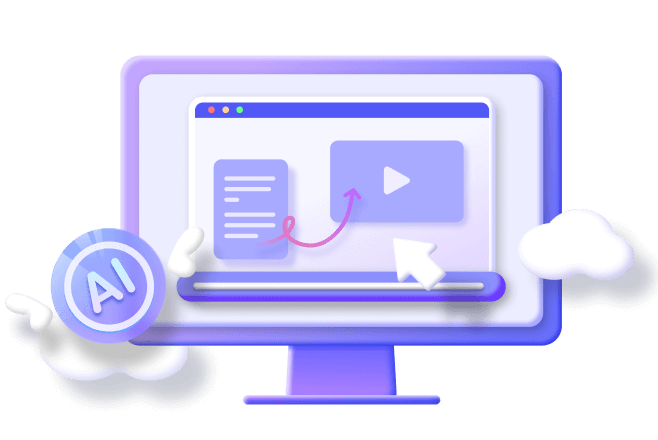 Its Highlights:
Convert text to video using AI technology with 1 click.
There is no watermark on the generated video.
Automatically create video pictures that match with the text.
Able to make story video for YouTube, TikTok, Vimeo, etc.
Easy to use with all pre-built features.
Step 1: Download iMyFone Novi AI and launch it to enter the Video Creation panel.
Step 2: Paste the text you need to convert to a video, adjust the settings accordingly and click Continue.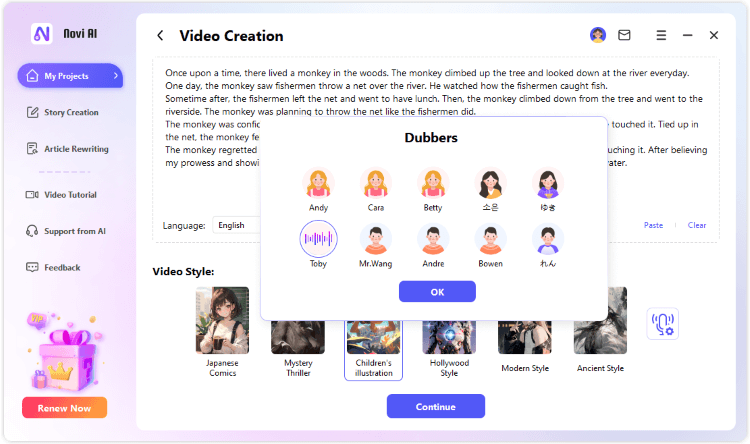 Step 3: Enter the file name and the save location for the video.
Step 4: Click to preview the text-based videoor go back to generate more videos with text.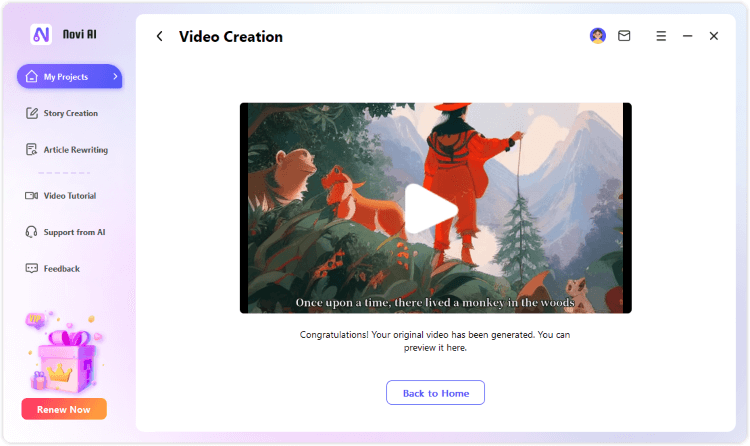 Wideo is an intuitive AI platform that empowers users to convert their text-based content into professional-grade videos.
Its user-friendly interface allows the effortless creation of animated videos by simply inputting text and selecting from a diverse range of templates, images, and animations.
It also provides a library of pre-designed scenes and characters, making the videos more captivating and dynamic.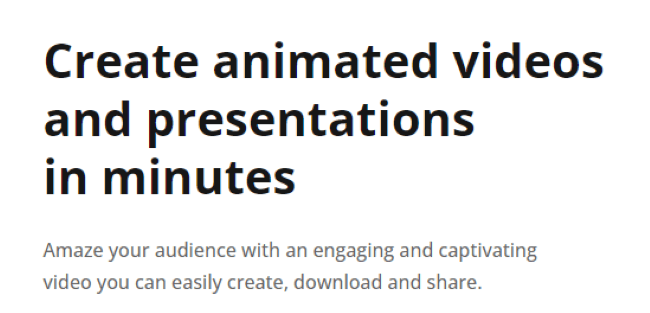 Its Key features:
Online-based tool with no software downloading required.
Able to make marketing and tutorial videos.
Offer different templates to choose from.
Support to use pre-made scenes and characters.
The video you made comes with a brand watermark if you stand at the free trial. And its basic plan starts with $19/month, which limits you to download only 10 videos per month.
Typito is a versatile AI platform that allows users to convert text into videos for various purposes, such as marketing, social media, and presentations.
With its user-friendly drag-and-drop interface, anyone can effortlessly create professional-looking videos without prior video processing experience. Moreover, it offers a wide selection of templates, animations, and fonts to enhance the visual appeal of the videos.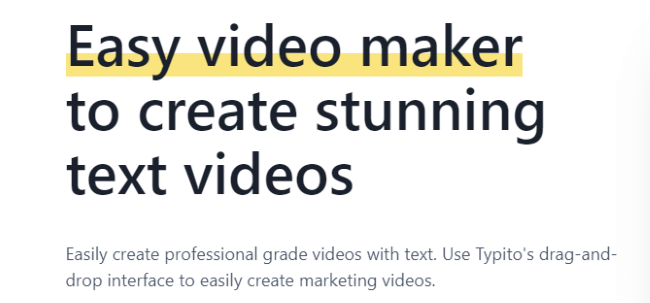 Its Key features:
Offer 20+ video formats.device effectively.
Various video templates to choose.
Easy-to-use with drag and drop feature.
Support to use customizable options.
The free trial offers only 5 minutes for a video. And the total export duration per month has only 30 minutes. To upgrade to the basic plan, you need to pay $18/month.
Part 3: Future Trend of Text to Video
There is no bound for the development of AI technology. And the conversion of text-to-video may be able to witness the evolves during the process.
Interactive Elements: Future text-to-video tools may incorporate interactive features like clickable links and quizzes, making videos more immersive and engaging for viewers.
Real-time Video Generation: As AI algorithms improve, real-time text-to-video conversion could become a reality, enabling live video updates for news reporting and live events.
Cross-platform Compatibility: Future text-to-video tools may prioritize seamless compatibility across various devices and platforms, ensuring optimized video creation for different screen sizes.
Commercial and Artistic Applications: Advancements in AI-generated visuals will expand text-to-video applications beyond commercial use to artistic and creative fields, facilitating animated poetry and conceptual idea visualization.
Final Words
Using an AI tool to convert text to video is no doubt a way to free you from the heavy lifting. By harnessing the AI technology, getting a text-based video is a click of a button. Therefore, to meet the growing demand for text visualization, Novi AI and other tools stand ready to make vivid video with the given text prompt.