Top 5 GPT-3 AI Text Generators for Content Creation in 2023
Category: Generate Video
10 mins read
It's familiar to us all that artificial intelligence is a sophisticated machine designed to simplify human life. Among these, the remarkable GPT-3 is a clever tool streamlining the writing process.
Over recent years, numerous applications have incorporated GPT-3, enabling the creation of diverse and distinctive texts tailored to specific requirements.
If you're thinking of utilizing the GPT-3 AI text generator to produce authentic and top-notch content, this guide is here to assist you throughout the process.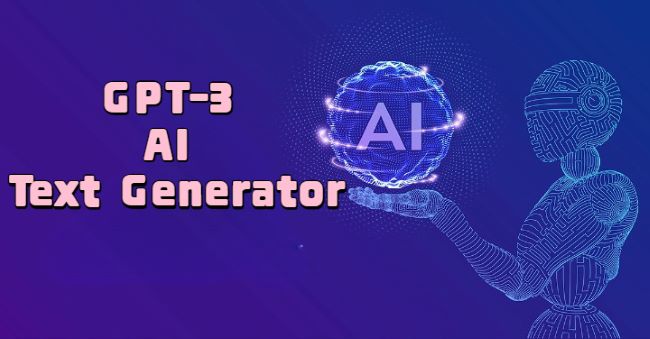 Part 1: What is GPT-3?
GPT-3, or Generative Pre-Trained Transformer 3, is an advanced AI language model created by OpenAI. As one of the largest language models to date, it's capable of generating human-like text and comprehending context across multiple languages with the help of transformer architecture and extensive pre-existing data
Part 2: Best 5 AI Text Generator GPT-3
AI text generator technology, as you can see, is still developing in a fast pace, possessing the potential to change how we write and how we create content. Let's explore some of the existing tools and see how they can change our life and work.
1

Novi AI – Story Generator with AI

When it comes to an GPT-3 AI text generator, iMyFone Novi AI always serve to be a matching tool with its built-in feature.

Unlike the other tools mentioned below, it aims at producing stories, novels, scripts, plots, articles and any other content.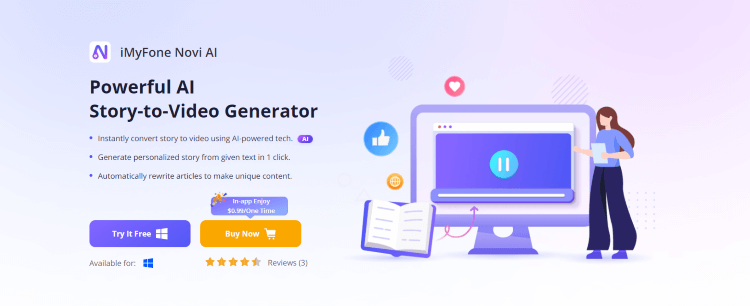 What makes it stands out to top the list is that it can generate you the text without limitation. In other words, besides the free trial, you can use it to create any text you like with no limitations.
Moreover, it can turn your text into video after generating the content, which is proven to be an effective way to make money from video when users try to post the video online.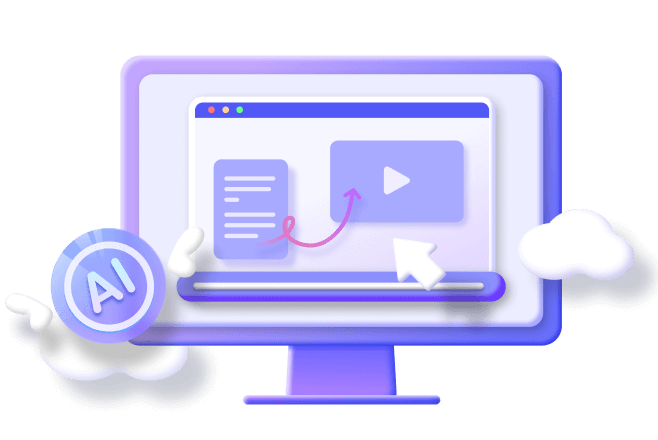 Its Highlights:
Connect with GPT to create unlimited text in 1 simple click.
Provide with different story styles and support different languages.
Enable you to turn text into text-related video at high quality.
How to generate AI text with GPT:
Step 1: Download and launch Novi AI to enter the home page, choose the Story Creation part.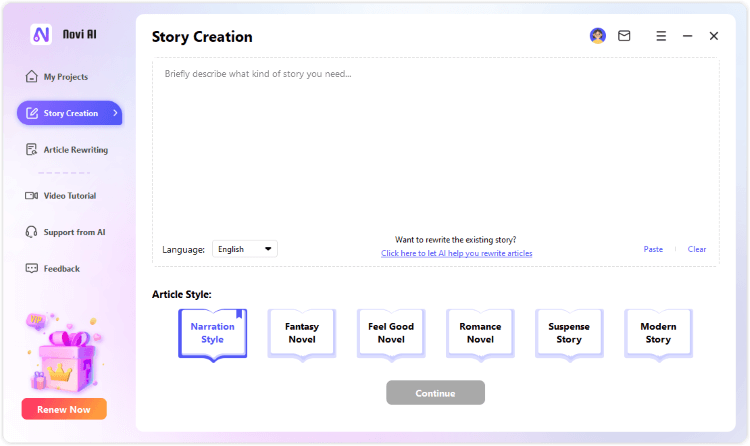 Step 2: In the input box, briefly describe what kind of text you want, select the style you need, and click Continue button.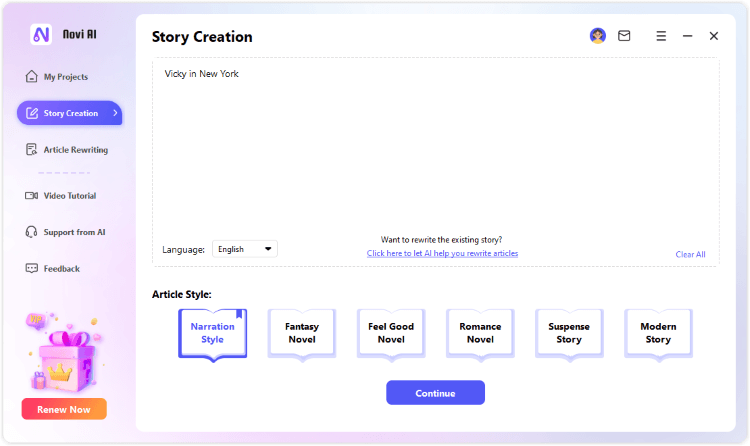 Step 3: When the process is finished, you can copy the generated content or start to turn the text into video.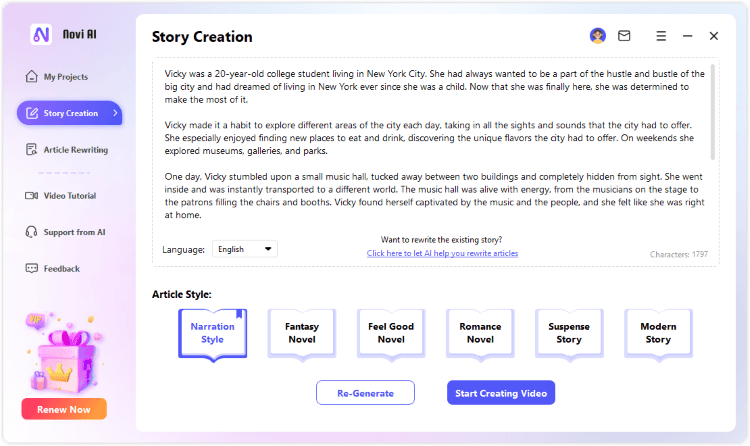 Users can enjoy $0.99 for per time use, which can be accessed to in-app.
Users can pay $9.99 for 1 month or $29.99 for 1 year with access to all features.
Support to produce text in many kinds you like
Equipped with many text styles and language supporting
Easy to use with clear instruction
Let users further convert the generated text into videos
It needs downloading first
2

Anyword

Anyword serves as an AI-powered copywriting tool, designed to optimize your marketing efforts through the analysis of every piece of copy you publish across various platforms.

By utilizing sophisticated predictive analytics, Anyword showcases what is effective, enabling you to assess the performance before going live.

Therefore, leveraging the Anyword AI text generator GPT-3 to create compelling content and enhance your copywriting skills can boost conversion rates to some extent.

Its features are:

Web-based without software installation.
Support for 25 languages.
Offer with more than 50 templates for writing.
Can detect policy compliance.

Starter needs to pay $49/month or $468/year;
Data-driven Teams need to pay $99/month or $588/year.

Marketing-based content generation
Ensure brand-approved copy generation
Utilize Custom Scoring AI models

Can't understand all information you input at the same time
3

Copysmith.ai

Copysmith.ai proves to be an excellent GPT-3 tool tailored for e-commerce teams seeking to generate product descriptions and landing page content.

Businesses can leverage it to craft SEO-focused product descriptions, surpass competitors, and boost conversions rapidly. Additionally, real-time interaction empowers teams to efficiently manage and stay updated on data, ensuring seamless workflow.

Its features include:

Work with many e-commerce platforms.
No need to download software for using.
Can bulk process and generate content.
Equipped with different layouts and templates.

The Starter plan costs $19/month or $228/year;
The Pro plan requires $49/month or $490/ year.

Offer to manage the different product catalogs
Enable you to upload the images or search for AI images
Able to generate SEO descriptions for your products in bulk

The free trial lasts for only 5 days
The starter plan applies to only 1 user
4

Frase

Frase's primary objective is to accelerate SEO content creation for marketing teams through content analysis and briefings.

By utilizing article analysis and brevity features, Frase facilitates the swift generation of SEO content, enabling marketers to craft SEO-optimized newsletters in mere minutes using first-page search results.

Moreover, this GPT-3 AI text generator streamlines the process by analyzing and deconstructing online material in a centralized location, eliminating the need for hours of SERP research.

Features include:

Can create SEO-friendly content at a relatively high quality.
Built-in tools to make SERP research simple.
Able to create outlines and the rest content in hours.

The Solo plan needs $14.99/month or $152/year;
The Basic plan needs $44.99/month or $459/year;
The Team plan needs $114.99/month or $1173/year.

Offer to write as many as paragraphs you like
Can summarize the content in minutes
Beneficial to marketing workers

The text provided can sometimes be wrong
The free-trial also needs $1
5

Kafkai

Kafkai, powered by artificial intelligence, specializes in crafting SEO-friendly content without relying on scraped online information.

It enables users to rapidly generate articles from scratch, making content creation effortless and natural for users seeking to write social media posts, website content, and blogs.

Listed are its features:

Dedicated in producing articles for users.
Support 7 languages for translation.
Create content on the basis of SEO-friendly.

Hobbiest should spend $9/month with 50 articles;
Writer should spend $29/month with 100 articles;
Blogger should spend $49/month with 200 articles;
Professional should spend $129/month with 1000 articles.

Relatively simple to use
Support 7 languages for translation.
Create content on the basis of SEO-friendly.

Hard to track down every new updates
May not generate stories
Part 3: FAQs about GPT-3 AI Text Generator
1

How to generate text with GPT-3?

First, you should choose the GPT-3 tool you like. Then, input your idea. At last, start the program and it will do the rest for you.
2

How much is GPT-3 text generator?

It depends on which tool you choose. As for our recommendation Novi AI, you can generate unlimited text with $9.99 per month. Or, you can enjoy $0.99 per time.
3

Who may utilize GPT-3?

Anyone who need to generate content can use GPT-3. From marketers to freelancers, you have it all.
Conclusion
The idea of trying a GPT-3 AI text generator to improve our working efficiency can be the most correct thing you have done. As for writing content and generating text in minutes, Novi AI text generator, the AI writing assistant can help you forget about the heavy-lifting at one click.