5 Recommended YouTube Video Idea Generator Tools to Boost Your Channel
Category: Generate Video
5 mins read
We all know that ensuring a constant flow of captivating ideas for your YouTube content can sometimes feel like a marathon. However, don't worry, I've got some game-changing solutions for you.
In this article, we're immersing ourselves into the realm of content inspiration, exploring the finest five YouTube video idea generators available. Prepare to bid farewell to creative obstacles and embrace these secret weapons that will boost your channel with innovation!

Part 1: What is a YouTube Video Ideas Generator?
A YouTube video ideas generator is a creative tool that aids content creators in generating fresh video concepts for their YouTube channels.
By utilizing algorithms and prompts, this tool suggests topic ideas aligned with the creator's niche or audience preferences.
Creators input keywords or themes, and the generator offers a list of potential video ideas, helping to maintain engaging content.
Part 2: What are the 5 Picked YouTube Video Idea Generator Tools?
There are many tools available online of course, so we've piled up the recommended 5 tools that most users like. All of them have their own distinct features.
Powered by advanced algorithm, Novi AI, the YouTube video idea generator, is able to generate multiple ideas based on the input text prompt.
Make it specifically, you're able to generate video scripts, or endless trending ideas for inspiration, with only a few keywords input.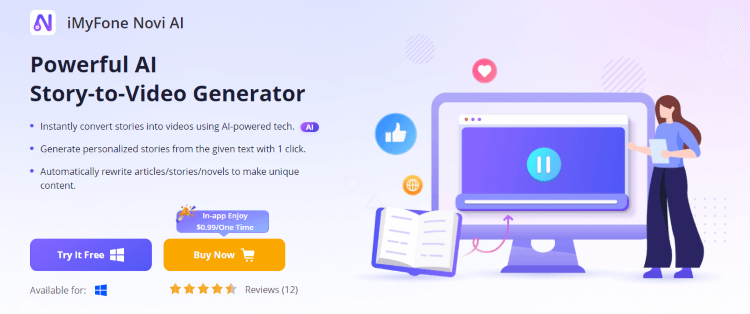 What's better? It helps to convert your generated content into a hit YouTube video that you can then share to social platforms for money earning.
Step 1: Download iMyFone Novi AI and launch it to enter the Story Creation panel.
Step 2: Input the text prompt for the YouTube video content you want and click Continue.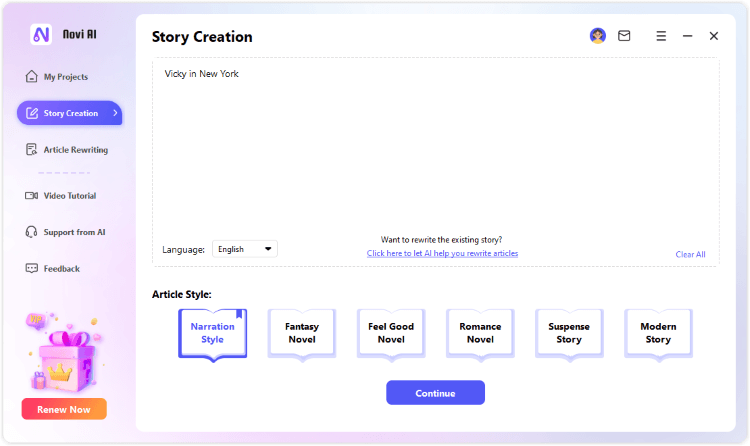 Step 3: Save the content or click to make more with YouTube ideas.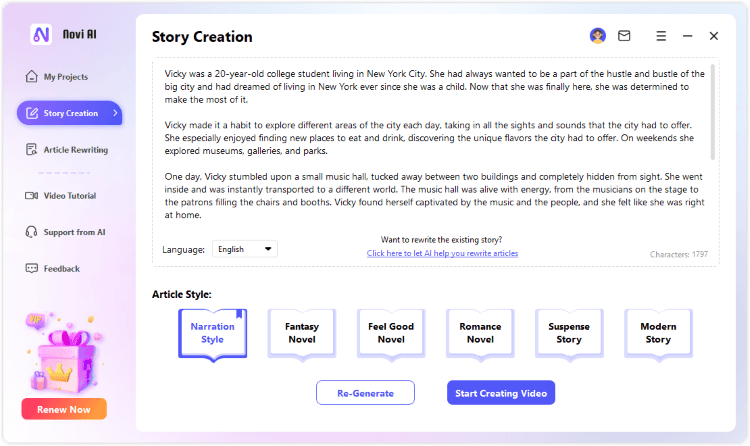 2. Weshare.net
The Weshare.net Video Idea Generator for YouTube is equipped with an extensive repository of YouTube video concepts to assist you in initiating your creative process.
Regardless of your intended content, you only need to input relevant video title keywords on the platform's interface. Subsequently, it will produce numerous potential titles and suggestions for crafting content.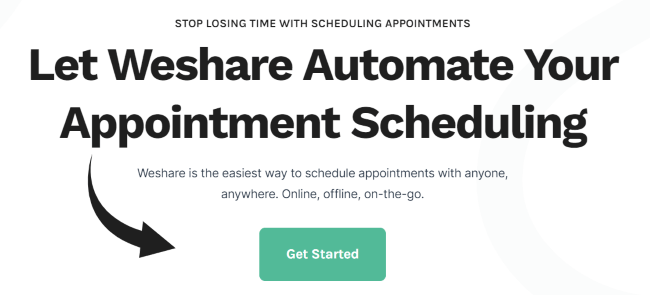 It offers access to an extensive database of YouTube video ideas.
It operates by inputting specific keywords related to the desired video topic.
It caters to various niches and content styles.
Intuitive dashboard that is east to operate.
3. Writecream
The Writecream is a relatively new YouTube video idea generator AI platform designed to assist YouTube users in accessing optimal video concepts.
The platform provides an extensive array of well-liked subjects and rapidly compiles a roster of possible ideas corresponding to each category.
Through its adaptable custom classifications, users can generate numerous tailored notions aligned with their interests.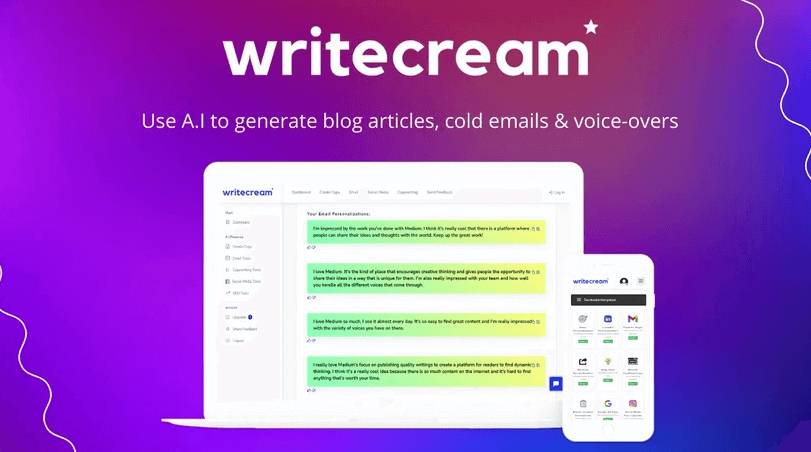 Provides with different popular similar YouTube topics.
Customizable options for idea generation.
Keep updating the emerging trends on YouTube.
Support over 36 languages.
4. Rytr
The Rytr is the next tool for YouTube idea generation. Like many other software, it's integrated with different content generation tools for different platforms, including YouTube.
It uses algorithm to test the prompt you input, rate it based on the relevance and then finally bring out some suitable video ideas.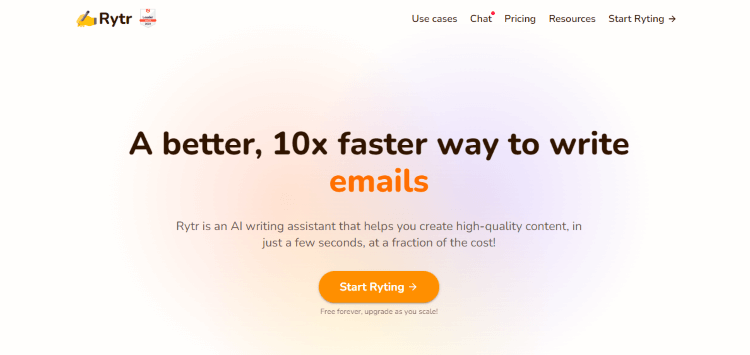 Provide with different content ideas for different subject.
Relatively fast in processing the requirement.
Online platform with easy to use interface.
Able to customize the tone, languages, etc.
5. Maekersuite
The Maekersuite is a platform that helps you get creative and gives you great content to boost your YouTube channel's popularity.
It looks at your niche, the words you use, and who you're aiming for, and then checks out lots of videos to find the best ideas that your viewers are likely to enjoy and watch.

Uses advanced algorithm to analyze multiple videos.
Generate different YouTube video ideas for specific subjects.
Keyword-based idea generation.
Clear and easy to use interface.
Part 3: What Makes a Great YouTube Video?
A great YouTube video is one that captures and maintains viewers' attention through engaging content, creative storytelling, and relevant information. It is visually appealing, well-edited, and aligns with the target audience's interests.
A successful video also has a clear message and a strong call to action, and encourages viewer interaction through comments, likes, and shares.
Moreover, a great YouTube video offers value, entertainment, and a connection that resonates with its audience.
Conclusion
Creating an appealing and captivating video is definitely an excellent choice to grab the viewers' attention, and this is what each YouTuber want.
But you might encounter challenges in coming up with video concepts for content creation, but fret not. With the aid of these YouTube video idea generator tools like Novi AI, you can produce videos with fresh ideas unlimitedly.