How AI Video Idea Generator Can Boost Your Content Creation Workflow
Category: Generate Video
4 mins read
As a video content creator struggling with consistent idea generation and creativity burnout, supercharging the workflow becomes an important matter.
Therefore, in this article, I'll detail how to use AI video idea generator tools to produce endless optimized video topic suggestions so as to expand content variety, prevent creator's block, and maximize efficiency. Be ready to unleash your limitless ideation.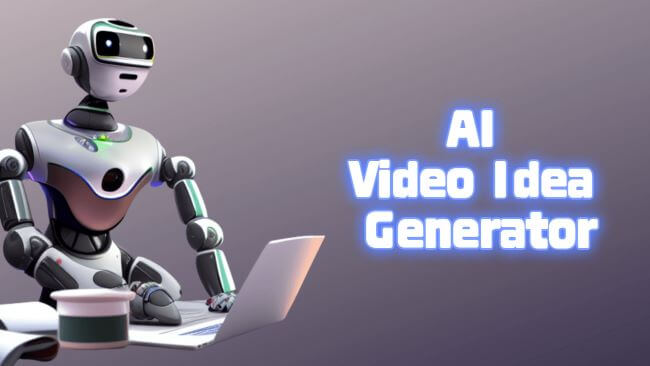 Part 1: How Does AI Video Idea Generator Work?
AI video idea generators utilize big data and machine learning algorithms to automate the video ideation process. By combining relevant keywords, metadata, and themes using predictive modeling and natural language processing, the AI generates optimized video title and description ideas.
Part 2: How to Free Yourself with AI Video Idea Generator?
As a text to video generator, Novi AI is also a platform for content creator to get unlimited and fresh ideas for YouTube, TikTok and more.
Regarding its range of duty, you can use it to generate ideas such as stories, plots, articles, scripts, YouTube trendy topics and so on.
And as mentioned, the good news is that it makes thing easier by allowing you to convert the generated idea into an original video, which can then be shared online!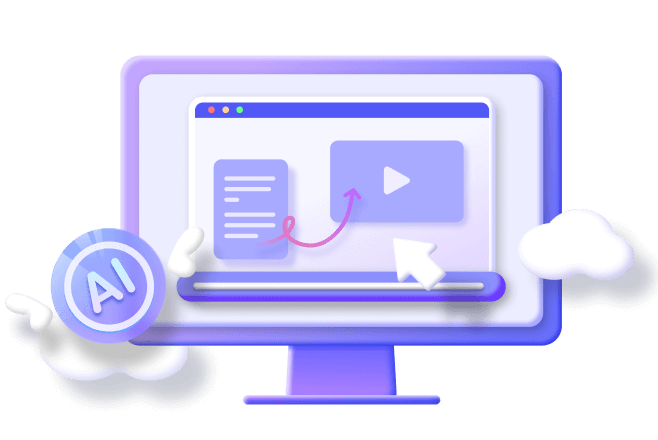 Its Highlights:
Generate different video ideas for various purposes using AI power.
Support to create ideas for children's story, suspense story, romantic story, etc.
Apply to popular social platforms including YouTube, TikTok, Vimeo, etc.
Easy to use with various ideas types to choose.
Step 1: Download iMyFone Novi AI and launch it to enter the Story Creation panel.
Step 2: Paste the text prompt for the video ideas you want, specify the settings and click Continue.
Step 3: When the content is generated, you can click to copy and save it.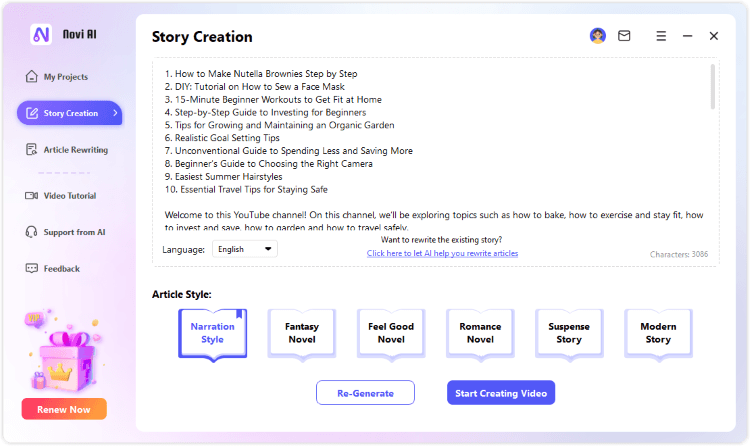 2. Maekersuite
Maekersuite is an integrated video creation platform with a YouTube video ideas generator that analyzes YouTube data and trends to produce optimized video topics tailored for the platform. If you tend to make videos for your YouTube channel, this one is the tool that works.

Support to find relevant videos on the keyword.
Relatively fast in generating the ideas.
Online platform with a clear interface.
Part 3: What are Some Great Video Ideas?
And here is some advice that you can consider to get those AI generated video ideas on different topics.
How-to videos: Tutorials that teach viewers valuable skills in areas like cooking, DIY projects, makeup, finances, etc.
List videos: Ranking top products, places, tips or facts in a category. Lists perform well and are easily expandable.
Review videos: Honest reviews examining products, services, or experiences in detail, including pros, cons, and ratings.
Comparison videos: Videos that directly compare and contrast two or more similar items side-by-side.
Vlogs: First-person videos capturing your daily life, travels, activities through storytelling and "day in the life" style content.
Challenge videos: Fun, engaging videos where you take on viral challenges, collaborate with others, or try weird foods and extreme activities.
Experiment videos: Testing hypotheses, conducting hands-on experiments, and revealing results on camera.
Conclusion
To continuously creating videos of various topics, you may need a help. And that's where the AI video idea generator comes to play. Whether to get the trendy ideas for YouTube or any other social platforms, Novi AI and Maekersuite stands ready to generate various ideas per your specific needs.